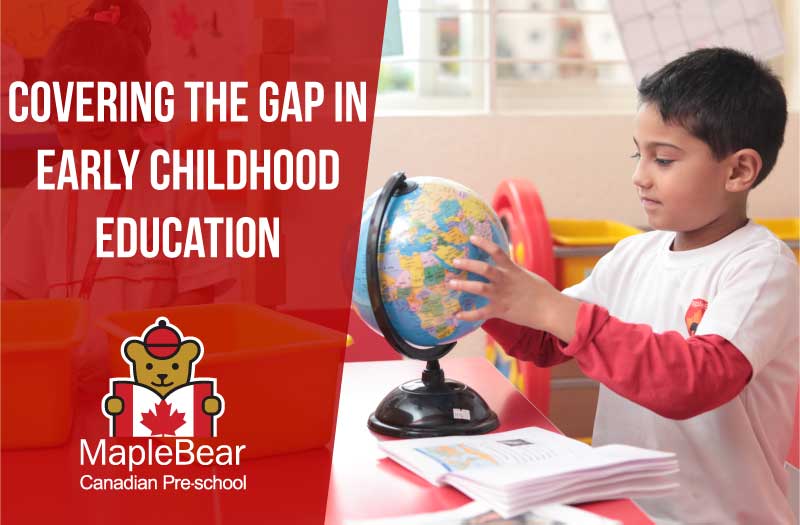 Early Childhood Education is an eminent part of every child's early life and yet there are kids who never get the benefit of quality preschool education. Pre-primary schools happen to be the place for child's development at a very early age in order to provide for the success in years to come. Preschool education helps in setting the foundation of knowledge and the ability to understand things and surroundings.

Mostly pre-primary schools are considered to be a place for kids to play but Maple Bear Canadian Preschool being the pioneer in the education industry now for more than 15 years, happens to break through these beliefs by bridging the gap between children and QUALITY early childhood education.

Know how Maple Bear has managed to cover the gap in early childhood education by setting new standards,
Preschools are more than just Play Schools
Often the word playschool makes us think that preschools are all about play and play only. Certainly playgroups are places where children are let loose or are free to play within a secured and safe environment. However, Maple Bear Preschools took this concept to a whole new level by facilitating learning through everyday playful activities.
Yes preschools are playschools but more, with stimulating environment and interactive activities that keeps kids engaged.
Kids experience the joy of discovery and they develop confidence for the primary levels of schooling to come.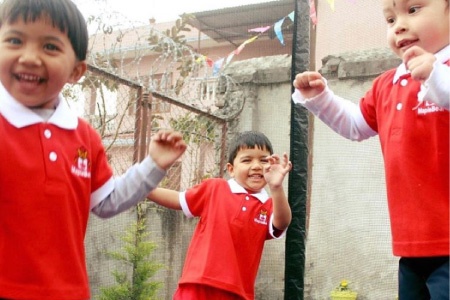 Introduction to the Concept of Free Play
The word free-play describes a form of play-based learning wherein the kids decide what they want to learn and when they want to learn. The best part about enrolling your children with Maple Bear Canadian Preschool is that you will never have to force them to learn. Each child is given their time to adjust and interact and there is nothing like force-feeding knowledge.

The goal is to instil in children a passion for lifelong learning which they develop gradually watching the interactions and real-life activities within the classrooms.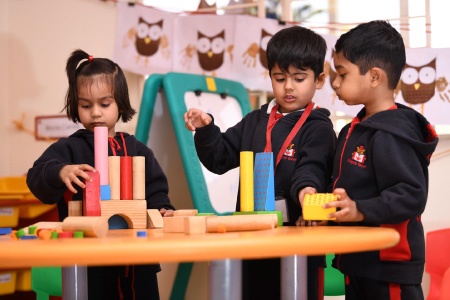 We Say No To Homework Culture
Before you start to think anything, let us clear the air. The reason behind not giving children homework is simple, classroom lectures cover everything and there is nothing that our curriculum misses out on. The learning provided in the school time-frame takes into account all the necessary information required for the particular day to make sure there is no unnecessary burden on children.

Moreover, homework only increase the workload of parents plus for kids it isn't the most fruitful or interesting way of grasping knowledge.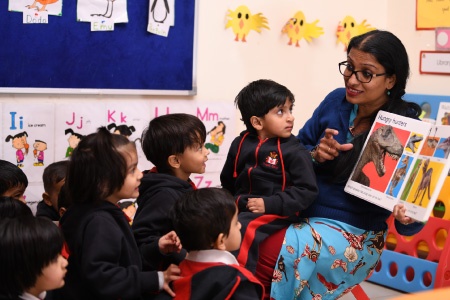 Early Child Care & Education begins on the Infant Level
Maple Bear stands aside from all other preschools with their day-care program that considers infants as an active learner who deserves to be treated likewise. Learning at this stage is through stimulation and other methods of scheduling.

Day care for the child is believed to be a home away from home, with active learning through play. Understanding the importance of early childhood learning is as essential as early child care.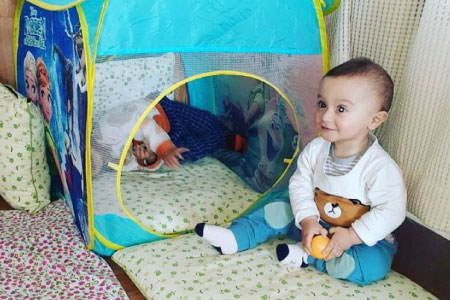 Canadian Curriculum Devised by Canadian Team of Experts 
One big step to cover the gap in early childhood education was introducing Canadian education to the traditional system of preschools.
Why?

Canada's education system consistently ranks among the best in the English-speaking world in science, math and reading.

If this isn't enough then know that our experts use Canadian best practices of Early Childhood Education to make sure they fit exactly with the needs of our children.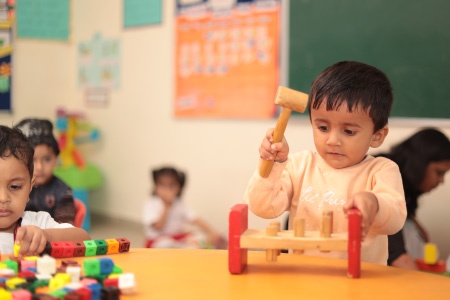 No Answer is Wrong, It is Simply the Matter of Perception
Maple Bear Canadian Schools hold on to this ideology of accepting all kinds of answers from children in a positive way. A child might have given out a wrong answer but the teachers always appreciate them for thinking differently and consider it as a response in accordance to the child's perspective.
This is a great way of boosting a child's confidence and doesn't scare him or her from answering the next time.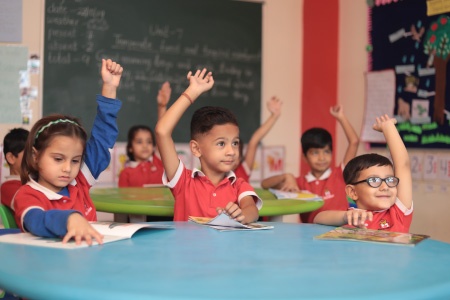 Practical Approach over Theoretical Knowledge – No more Rote Learning
One of the reasons behind the gap in quality early childhood education is preschools not giving up on their theoretical methods of teaching.

No good can come out of rote learning into kids at an early stage. This will only make them unsure about the higher levels of education and they might get irritated with just the thought of it.

A better solution would be switching to a more modern practical approach that involves techniques like immersive learning, role play, and in-classroom experiments & activities. The more interactive and appealing the teaching style, the more curious and willing the child is to learn.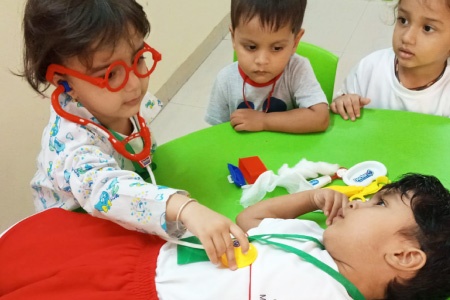 Bilingual Education
Another vital step of filling the gap is by providing bilingual education. The child learns to fluently interact in English. Our early childhood education efforts grow stronger as our teachers are well-versed with the language and encourage students to speak in English at all times. Children get used to it with every interaction and gradually become habitual to it.

Bilingual Education in today's time holds the most relevance for those aiming for a global future for their child.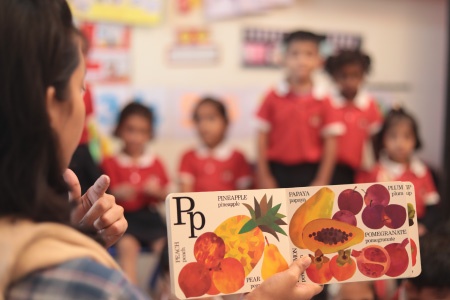 Online Classes becoming The New Normal
We are not saying goodbye to our regular school classes. Online education is the need of the hour. The Online class initiative led to covering the gap even more by reaching out to parents who weren't earlier confident or aware of the benefits of a quality early childhood education such as continuity in learning, ensuring a routine for the child since these times may have thrown children off their regular pattern and they need one to feel stable, maintaining discipline, building confidence and social interaction etc.

Parents can now take a demo class with their choice of Maple Bear Canadian Preschool branch and can be actively part of the class with their kid.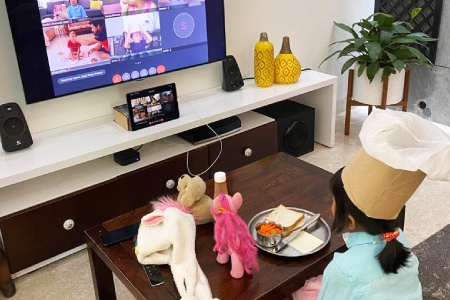 Safe, Secure & Stimulating Environment
Lastly, like most schools Maple Bear maintains a high-end standard when it comes to the security and safety of students. With CCTV- Surveillance and child-friendly interiors & play areas, the preschools are a great choice among parents. We are also now in the process of ensuring that all WHO norms for health and hygiene are followed once schools reopen such as frequent sanitisation of hands in different areas of the school, surface cleaning and disinfecting toys at regular intervals. Staff and all teachers to follow the guidelines of wearing masks and gloves at all times etc.

At the heart of our schools is the stimulating environment, specially maintained to keep children playful and active throughout the day. The comfort of children is our priority as our motive is not solely providing education but also early child care.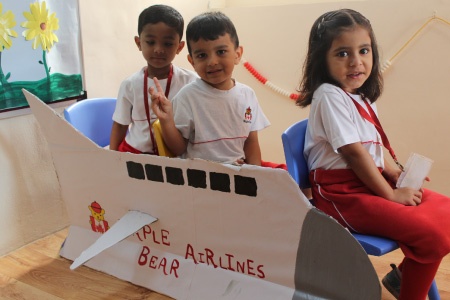 Transparency with Parents
Maple Bear Canadian Pre-school facilitates transparent flow of communication between teachers and parents or school and parents. It is our parent's satisfaction that keeps us motivated and growing. We understand the importance of bond plus we feel it is crucial for parents to be aware about their child's growth in class. Parents' role in framing their child's career is equivalent to that of the teacher's, thereby, they should be made fully aware of their child whenever they seek to know.

Early Childhood Care, Development and Education, all hold relevance when we look at the behaviour of children in the later years of primary schools. For this reason alone, it is all the more important to make sure you give your child quality and positive early childhood education to kick-start their quest for a global future.